Discovery of the rahui of Teahupo'o for members of the Pacific Islands Parliaments Group (PIPG)
Publié le mardi 04 octobre 2022 à 10:06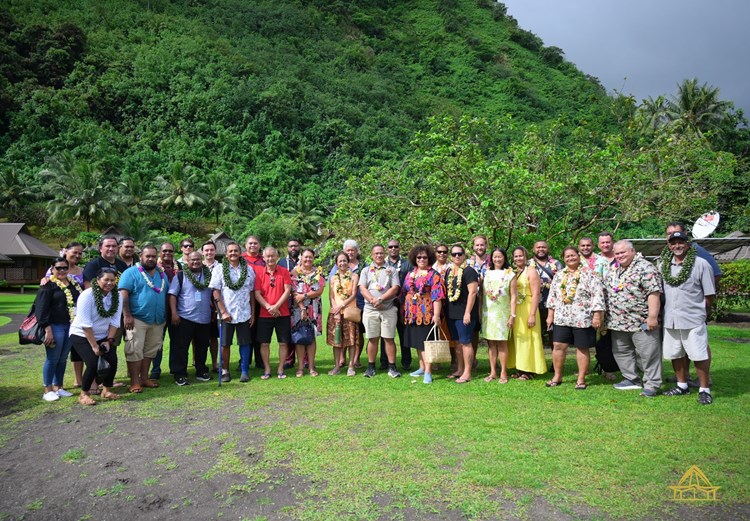 On Monday, October 3, 2022, the delegations of the Pacific parliaments participating in the technical meeting of the Pacific Island Parliamentary Group (PIPG) were received in the municipality of Teahupo'o for a working visit on the themes of resource management and marine protected areas.
The parliamentarians and administrative staff from the Cook Islands, Palau, New Zealand, New Caledonia, Solomon Islands, Tonga and Wallis and Futuna received a warm welcome at the Teahupoo marina from Mrs. Roniu Poareu, Deputy Mayor of Teahupoo, Mr. Jonathan Tarihaa, Deputy Mayor of Teahupoo, and Mr. Roniu Poareu. Jonathan Tarihaa, Deputy Mayor of Vairao alongside of members of the West Taiarapu Municipal Council and young students from Ahototeina Primary School in Teahupoo, who sang an emblematic and touching song from the munucipality.
The parliamentary delegations and the elected officials then went by boat to the fenua aihere where they could enjoy a ma'a Tahiti (traditional food) and attend a presentation of the rahui system proposed by Mr. Raimana Doucet, in charge of the marine environment at the Environment Department, and Mr. Gérard Parker, former Mayor of Teahupoo and elected official of the municipality, member of the rahui management committee.
The Pacific representatives were thus able to better understand this ancestral practice used in several French Polynesian islands, which consists in preserving the fishing resource by prohibiting all forms of fishing or taking in well-defined areas.
The protection and preservation plan set up in the fenua aihere of Teahupoo covers seven hectares of lagoon and allows the fishes to reproduce in all peace.
Rich exchanges and sharing of experiences between the elected officials of the Pacific and the elected officials of the communities took place around this process of reasoned management.
This visit, proposed in preparation for the work of the PIPG technical meeting, ended with the discovery on site of part of the rahui area.
The elected officials, delighted with this socio-cultural day, will meet again at the Assembly of French Polynesia on Wednesday, October 5 and Thursday, October 6, 2022, to discuss and debate issues related to the management of marine resources and ocean protection.